Product Sections







Best Sellers:
Welcome to Our Site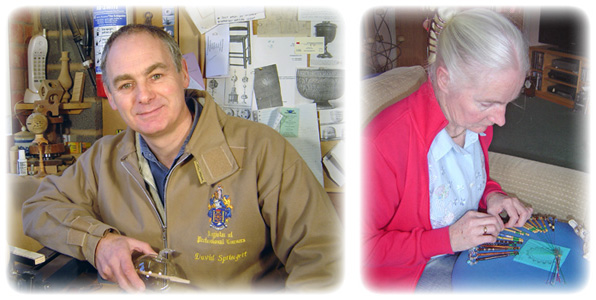 CONTACT DETAILS
Our new email address is davidbspringett@gmail.com - Telephone: 01788 544691


About Us



David Springett is a woodturner but don't expect bowls. His work is turned from wood, on an ordinary lathe (his self imposed constraint). Using a basic lathe he has devised ways of turning cubes, tetrahedrons, dodecahedrons, twisted polygons (&more) as well as more regular spheres, objects turned within spheres, elliptical forms, in fact a wide variety of unexpected shapes.
David has been a professional turner since 1980 and has written 5 books on woodturning. One book "Adventures in Woodturning" is now out of print.
It is the challenge that drives David forward, often searching for inspiration outside the discipline of woodturning. It is always useful to be jolted out of the rut of repetition by accepting new concepts and ideas.
You will be surprised by what David can produce on an ordinary lathe.

Christine Springett started to make lace in 1977 and quickly discovered that Bedfordshire lace was her favourite, since then she has taught classes in America, Canada, Australia, Denmark and the UK. In 1985 she, and her husband David, founded "The British College of Lace" in Rugby, England. The author of numerous books and DVD programmes Christine's patterns are known worldwide, in fact her "Snake" pattern must now be one of the most popular patterns ever, for many children this pattern will be their introduction to lacemaking.
She is well known for her excellent guidance in her books and DVD's providing pinhole by pinhole instructions ensuring success.